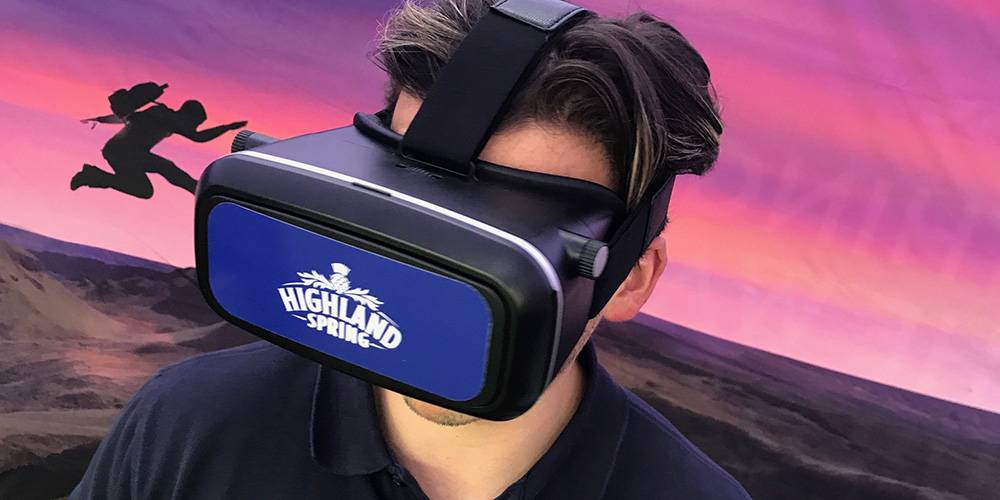 Using virtual reality to drive real results for the UK's leading water brand
After serving up an ace with Anywhere for Tennis, Highland Spring returned to Denvir to support a new campaign. With its 'Brave by Nature' national TV campaign in full flow, the goal was to bring out people's adventurous side, while promoting the brand's reduced plastic bottle design and the importance of recycling.  Inspired by the Highland setting of the TV advert, our team used drone footage to create a fantastic Virtual Reality (VR) experience. Wearing a VR headset, customers were transported into the skies above Highland Spring's source and challenged to count the 'Love Recycling' logos among the Ochil Hills.
For those who preferred to 'keep their feet on the ground', the VR was complemented by our recycling time trial. Consumers young and old joined in to see how fast they could 'recycle' 70 Highland Spring bottles, creating great exposure for the new low plastic 'Ochil Hill' bottle design.  Instant branded prizes were on offer each day, with the top time trial and VR participant winning a Samsung S6 smartphone and Samsung Gear VR Headset at the end of the campaign.

Organised by our expert experiential team and staffed with our enthusiastic Brand Ambassadors, this was a 'virtual' retail activation experience with a very 'real' impact on engagement.

Tendeka

Tendeka

Results across your reservoir