We're feeling pretty 'optimal' here at Denvir HQ, and the amazing results our SEO experts have achieved for our clients inspired us to share our top 5 SEO tips in this latest blog (other sources of inspiration may or may not include our copywriter watching the film 'Everest' last night).
Why does SEO matter?
Getting to the top of search engine rankings, such as Google, can be a lot like trying to climb Everest (*ahem*), especially if you're going it alone!
You won't know where to begin, you'll wonder why you took on this futile task, you'll forfeit all hope of seeing your loved ones again, and like most who try, you probably won't make it to the top anyway. Worst of all (yes it gets worse), you might even make a wrong move that sends you plummeting below where you started, to an icy death…
Sound a little overly dramatic? Perhaps. But for the many business owners who rely heavily on their online presence for lead generation, by slipping off 'Page 1' of Google, they might as well be slipping off the face of a mountain. Consider this:
74% of PC/Laptop users search using Google.
90% of mobile device users search using Google.
The #1 result on Google gets 38% of all the clicks on Page 1.
Results #1, #2, and #3 get over 60% of all the clicks on Page 1.
Less than 10% of people will continue to Page 2 of Google.
It may seem crazy, but in today's digital world quality SEO can literally be the difference between a thriving business, and shutting up shop for good.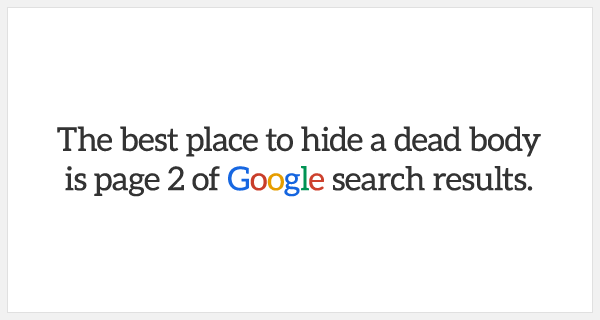 How to climb Everest.
Now we've set an intense scene of potential peril, let us be your Sherpa for those first few steps towards your search engine summit! Denvir's SEO experts have pulled together our top 5 SEO tips to help you follow sure-footed SEO best practice, and avoid 'black hat tactics' that will cause an avalanche of Google penalties and condemn your website to the abyss, never to be found.
FYI – That last part is not us being overly-dramatic, Google can make your site unfindable!
Denvir's Top 5 SEO Tips
1) Choose very specific Keywords/Phrases: If you're a plumber, it would be great to get to the top of Google rankings for 'professional plumber', but that's just a pipe dream (ugh, I apologise). By focusing on such a broad search term you would be competing against every website, for every plumber, everywhere. Instead, it would be better to make use of modifier words to set yourself apart. If you are a local business, try targeting your area with 'professional plumber in Stirling', or perhaps promote a particular service you offer, such as 'boiler repair specialist'. Being as specific as possible and trying to 'own' a phrase can really help in early SEO efforts e.g. '24-hour emergency boiler repair in Stirling'. The more specific you can be the fewer competitors will be promoting the same keywords, and the more likely you are to climb Google rankings.
2) Don't overuse your Keywords: Whatever keywords or phrases you are trying to get to the top of Google for, it is important you do not use them more than 4 times. Any more than this and Google will start to look upon it as spammy content and you may incur penalties instead of rewards for your keywords. Aside from that, think about it from a readers point of view. Nobody wants to read a page with '24-hour emergency boiler repair in Stirling' crammed into it 5, 6, 7 times. Some keywords you may struggle to get in even 3 or 4 times without sounding forced. Again, this is where being specific helps. The fewer people using your keyword, the less you need to use it to rank #1.
(Note: If the file name for an image on your web page includes your keyword/phrase then Google will count this towards your count of 4 uses. So be careful.)
3) Write lots of good content: If you have not realised already, Google is incredibly smart. It constantly crawls the internet to review web pages and count keywords. Google will only count your page in SEO rankings if it contains over 300 words of content, and it can even tell if those 300+ words are well written, readable English (or whatever language you use). If a page is poorly written, with keywords crammed in until the content is nonsensical, Google will look for you… Google will find you… and Google will penalise you for spammy black hat tactics. It is also worth noting that Google will move you down its rankings if you have a high 'bounce rate'. So, if someone searches '24-hour emergency boiler repair in Stirling', clicks on your page, sees a terribly written mess, and leaves your site immediately, then Google will deem your site 'unhelpful' for this search term, and down you go. You can learn more on how to avoid a high bounce rate, in our Website Design blog.
4) Keep writing lots of good content: Not only will this have the obvious effect of increasing the size of your site and the number of keywords, but it keeps your site fresh. Age matters in SEO. Google favours new content as it is more likely to be relevant and up to date for the search term. Posting regular updates and new content also maintains people's interest, meaning more frequent site visits. Google sees this regular traffic as another indication of your site's relevance, helping you get to the top of Google faster. A blog is ideal for this purpose, so if you don't have one, it's time to start thinking about it. Remember, always 300+ words for Google to find it.
5) Call Denvir: Ha! Just kidding (kind of). Our real final tip is don't give up! A big part of how to climb Google rankings is for people to search for your keywords, and consistently click on your site. This all takes time, during which you should continue to commit to the points above, and look for additional ways to improve your ranking.
Reaching the Summit
Nobody ever reached the top of Everest and said "it wasn't worth it", but even these first five steps take considerable effort. And they're just the tip of the iceberg… wait… wrong movie.
Joking aside, SEO can be overwhelming. If you feel like you can't spare the time, or you want more detailed advice, then get in touch. We have time, and we know how. Check out some of our latest SEO results in our Tendeka Website Case Study.