We're losing touch with reality.
Since the release of the uber-expensive, super-early-adopter Oculus Rift video game platform, Virtual Reality technology has taken serious steps towards mainstream adoption. The Samsung Gear-VR headset, has now sold over 5million units, making it the most highly adopted VR platform, by a long way. However, such headsets are essentially holders for mobile devices.
The issue with many current Gaming VR products is that they rely on mobile devices for their content, and whilst mobile gaming has come a long way, it will never be in the same league as dedicated console content. Enter Sony. Since launching in October 2016 PlayStation VR has sold over 1million units, and the release of Resident Evil VR arguably blew every VR game that has come before it out the virtual water. It seems a clear indication as to the future of the gaming industry.
PlayStation VR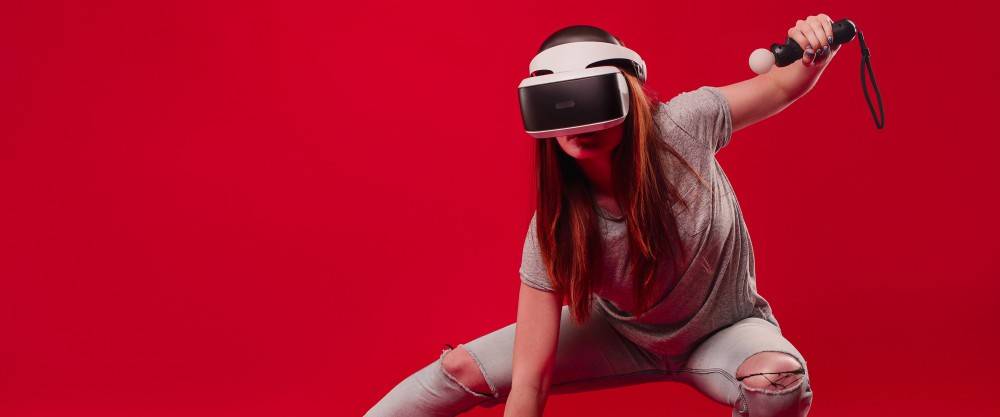 The REAL virtual market.
It is obvious the future of VR gaming is going to belong to gaming giants like Sony and Microsoft. However, it is non-gaming applications for VR that will have a far more substantial impact on our everyday lives. The truly profitable VR market will focus on cheaper, more accessible, and less advanced platforms. Why? Because this is the best way to reach the masses, and by doing so VR will become a communication channel that revolutionises the world of marketing. Imagine "trying on" clothes before buying them, but without even leaving your home. Or not just seeing the trailer for a new movie, but being thrown into the action yourself.
So far VR marketing is still in its infancy, but already we have seen some fantastic applications; such as VR hiking experiences by Merrel, and  the VR movie trailer experience ahead of the release of 'The Conjuring 2'. From 'boots' to 'blockbusters', these are great examples of the range of things that can be promoted via VR. This could be the technology that eliminates the word 'impossible' from marketing campaigns.
The sky is the limit
Last week Denvir and Highland Spring launched the 'Brave By Nature VR Experience'; a huge 6-week experiential marketing campaign touring 50 Tesco, Morrison, and ASDA stores across Scotland. The tour highlights how proper hydration gives us the power to handle all that life throws at us, while also championing the importance of recycling, and promoting Highland Spring's stunning new bottle designs; inspired by the dramatic, rolling Ochil Hills of Scotland.
There is also the chance to win a Samsung Galaxy S6 Smartphone, and a Samsung Gear VR headset! Brave shoppers can take the 'Recycle Speed Challenge', or strap on a VR headset and get their adrenaline pumping as they are immersed in a virtual experience that has been tailor-built for the campaign. As shown below, customers will be 'virtually' launched into the clouds, soaring above the Ochil Hills and sweeping through valleys, while looking-out for all the "love to recycle" logos to win the exclusive prizes.
Highland Spring – Brave By Nature VR Experience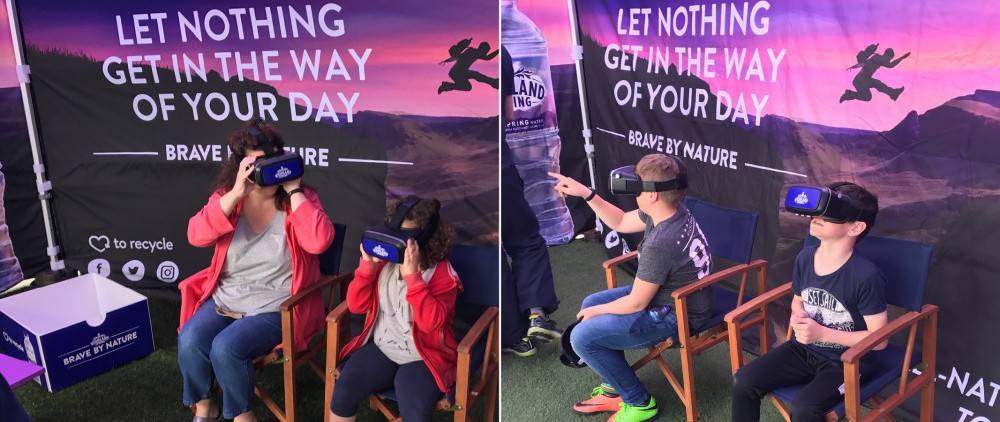 So, what are you waiting for? Come visit the Brave By Nature Tour, get your flying goggles on, and win some great prizes.
You'll find us at the following locations. Go on, BE BRAVE!
BRAVE BY NATURE TOUR DATES & LOCATIONS
5th July
Tesco – Dunfermline Extra
Tesco – Inverurie
6th July
Tesco – Falkirk Grahams Rd
Tesco – Huntly
7th July
Tesco – Stirling
Tesco – Aberdeen Extra
8th July
Tesco – Musselburgh
Tesco – Aberdeen Extra
9th July
Tesco – Milngavie
Tesco – Perth
12th July
Tesco – Dundee Kingsway
Tesco – St Rollox
13th July
Tesco – Dunblane
Tesco – Ayr Extra
14th July
Tesco – Glasgow Silverburn
Tesco – Irvine
15th July
Tesco – Glasgow Silverburn
Tesco – Rutherglen
16th July
Tesco – Cumbernauld
Tesco – Alloa
19th July
Tesco – Kilmarnock
Tesco – Bathgate
20th July
Tesco – Corstorphine Extra
Tesco – Dalkeith Hardengreen
21st July
Tesco – Corstorphine Extra
Morrisons – Glasgow Anniesland
22nd July
Morrisons – Edinburgh Granton
Morrisons – Glasgow Anniesland
23rd July
Morrisons – Stirling
Morrisons – Glasgow Auchinlea
26th July
Morrisons – Portobello Road
Morrisons – Hamilton New Park Street
27th July
Morrisons – Portobello Road
Morrisons – Giffnock
28th July
Morrisons – Kirkcaldy
Morrisons – Moredun
29th July
Morrisons – Kilmarnock W. Langlands
Morrisons – Livingston Almondvale
30th July
Morrisons – Falkirk
Morrisons – Perth Caledonian Road
3rd August
Morrisons – Bathgate
Morrisons – Aberdeen King Street
4th August
Morrisons – Airdrie
Morrisons – Inverness
5th August
Morrisons – Dundee Afton Way
Asda – Perth
11th August
Asda – Glasgow Maryhill
Asda – Cumbernauld
12th August
Asda – Chesser Superstore
Asda – Dundee Milton