We recently took a look back at some of our independent business marketing projects, working with wonderful start-ups, small businesses, and emerging brands across Scotland.
As an independent family-run agency, Denvir is proud to have helped others get more value from their independent business marketing; increasing awareness, growing market share and improving return on investment (ROI).
If you're like us, you love a good underdog story and are constantly rooting for the little guy. We've got a lot of experience being the stone in David's sling for independent Scottish businesses; using our marketing expertise and creativity to help build exciting new brands and effective strategies to take on the rest of the market.
Below is one of our award-nominated projects, for an independent retailer, which we are proud to say was a finalist in this year's 'Marketing Star Awards', presented by The Marketing Society Scotland.
Essence Of Harris
>GREAT potential
Producing beautifully hand-made scented candles on the Isle of Harris, the then-called 'Buth Bheag Candle Co.' had a wonderful product but a name that was hard to pronounce and an identity that was easy to forget. Wanting to stand out in a market that includes the likes of Yankee Candle and Jo Malone, we set about building a brand as carefully crafted as the candles themselves.
>GREAT branding
Inspired by the Isle of Harris itself, we developed a bold and modern visual identity, evoking the elemental origins of the product to capture the attention of the luxury candle audience.



Complementing the striking design, we unlocked the value in the brand's previously untold story; winning the hearts of consumers with a warmth and authenticity that simply cannot be matched by big-name competitors. From the unique origin and heritage, to the simple but touching strapline of 'Hand poured. Heartfelt'.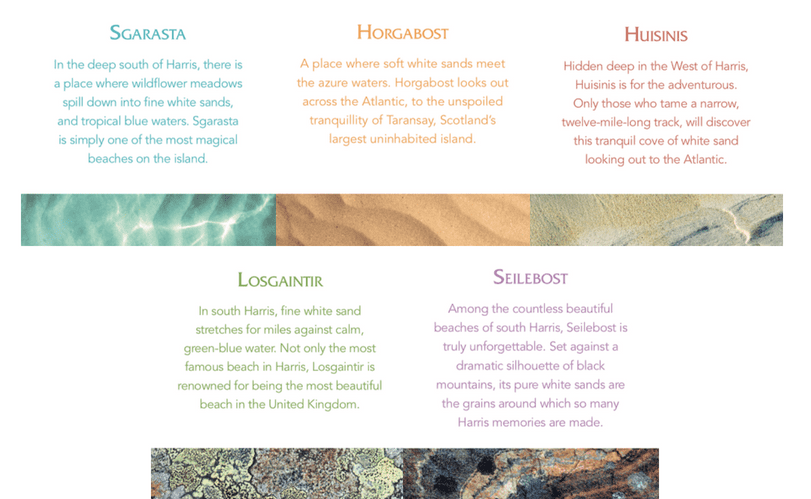 >GREAT result
Looking the part is one thing, but most importantly the new brand had to resonate with consumers, both current and new, in the luxury scented candle market.
With a strong existing trade of one-off sales to tourists visiting the candle store on Harris, the onus for the new brand was on encouraging repeat purchases and increasing international appeal, particularly through the online store.
The results below, covering the four months after launching the Essence of Harris brand, show just how well the new identity was received. A truly >GREAT result for a brave independent business with fantastic products and, finally, a brand to match.
Online Shop Performance: Essence of Harris – Quarter 1
Sales:

Online Shop Performance: Essence of Harris – Quarter 1
Traffic:


Here for you
In addition to the award-winning creative, digital, and strategic expertise of our team, Denvir's position as an independent and family-run business means we truly appreciate how important every aspect of your business is to you. We pride ourselves on being a marketing partner that small and independent businesses can rely on. Get in touch for a chat about how we could help you grow your business and build your own >GREAT brand.